18 Reasons Not to Get a Guinea Pig
I could talk to you all day about the reasons you should adopt guinea pigs. They're adorable, have their own individual personalities, and it's so rewarding to gain the trust of these delicate creatures.
But, there are also plenty of reasons guinea pigs might not be for you!
Guinea pigs are messy, expensive, and can quickly become ill. They must live with other guinea pigs in a cage with a minimum of 8 square feet of space. They're also not very playful or cuddly like other pets you may be used to.
In this article, we'll discuss 18 reasons why you shouldn't adopt a guinea pig.
1. Guinea Pigs Can't Live Alone
You should never adopt just one guinea pig because they are herd animals. This means that you cannot meet their needs by keeping them alone. In some countries, it's even considered animal abuse!
In the wild, guinea pigs live in herds consisting of one male and many females. In our homes, we usually keep them in same-sex pairs or small, female-only herds to prevent mating, which can get out of hand very quickly!
Males can live in same-sex pairs or with females if neutered, but please don't try to put three or more males together as they're very likely to fight. Two or more males in a herd with females are also likely to fight over the girls.
2. They Need a Large Cage (at Least 7.5 Sq. Ft.)
If you're thinking of getting guinea pigs and keeping them in those small cages you see at the pet store, please don't!
Guinea pigs need large cages so that they can exercise throughout the day and stay healthy. Floor time isn't enough, nor is keeping them in a small hutch and allowing them out into a run during the day.
While 7.5 square feet is the minimum cage size for guinea pigs, many won't thrive in this size of enclosure. An enclosure that's 10.5 square feet or more is recommended for a pair of guinea pigs–and you'll need to go even bigger if you adopt more than two.
Boys sometimes need larger enclosures as well because they're more territorial than females.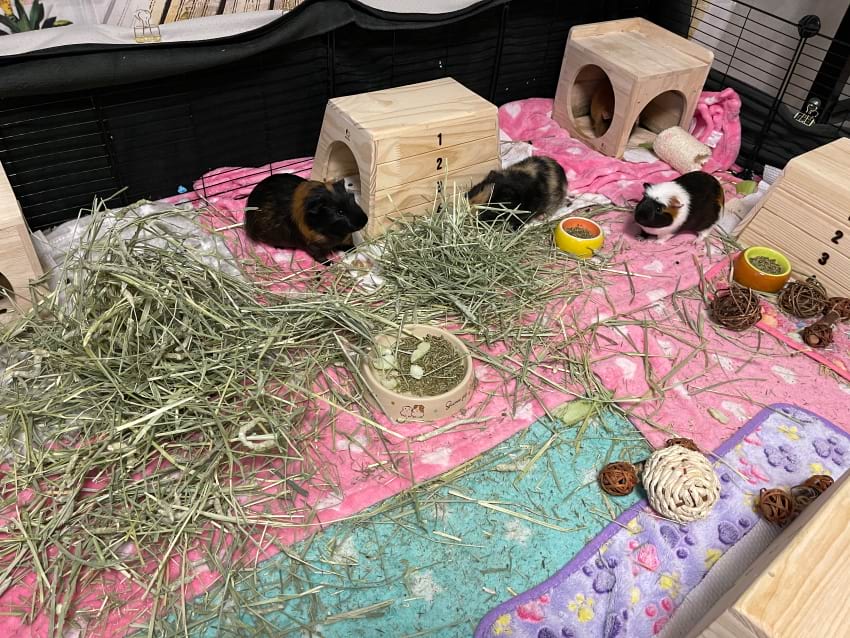 3. They Poop Up to 100 Times a Day
Guinea pigs poop (and pee!) a lot. Their digestive systems move very quickly, always cycling food through their bodies. They're constantly eating and constantly going potty.
Skinny pigs, or hairless guinea pigs, have even faster metabolisms and will eat and potty around twice as much as a guinea pig with fur.
This can lead to lots of mess, and lots of smell if you don't keep up with cleaning their cage!
While some people do keep litter boxes in the cage, it's important to know that guinea pigs cannot be reliably litter trained.
4. That Means Lots of Cleaning!
Guinea pig cages should be spot cleaned daily. This means picking up any stray poops, changing out soggy bedding, and cleaning the litter box if you have one in their cage.
They'll also need a full cage clean, which means removing all bedding and wiping down the bottom and sides of the cage, at least once a week.
5. They Can't Tolerate Scented Products
You have to be careful with the products you use around your guinea pigs because their respiratory systems are very fragile. Scented products can give them upper respiratory infections, or URIs. This can lead to pneumonia and death.
When cleaning your piggies' cage, it's important to use unscented cleaners and laundry detergent. Don't light candles or use other scented products in the same room as your guinea pigs.
Some people want to cover up the smell, but the best way to do this is to keep their cage clean.
If you smoke nicotine or marijuana, it's also important not to do so in the house when you have guinea pigs.
6. Many Guinea Pigs Don't Like to Cuddle
Guinea pigs look so snuggly and cute, we just want to squish them! But many guinea pigs don't like cuddling, and almost all hate being picked up.
Don't adopt piggies expecting cuddly pets, because many prefer to stay in their cage with their piggy friends. They might appreciate you watching and talking with them instead, or gentle pets on the head while they sit in their cage.
7. They're Usually Very Skittish
These are prey animals, so they're naturally shy and skittish. Guinea pigs can be adventurous and show off their personalities, but only when they're comfortable–and some will always be reserved.
8. They Can Be Loud!
Personally, I become overstimulated by noises very easily. I loved my piggies, but keeping them in my room was a challenge, and I plan to adopt again only when I can keep them in their own space.
Guinea pigs are fairly quiet animals, but they do squeak–and can get pretty loud when doing so! Mine used to wake me up every morning, anticipating breakfast, and would also squeak whenever they heard the fridge open or a plastic bag rustle.
Other noises to consider, though quieter, are them drinking from their water bottle and running around the cage. If you're a light sleeper, you might want to keep the piggies out of your room!
9. They Aren't "Beginner Pets"
Guinea pigs are expensive, require a lot of care, and are quite delicate. They aren't beginner pets and you should never expect children to care for them on their own.
Young children can scare and even hurt guinea pigs by handling them too roughly. They're also likely to get bored of them, because piggies don't play like dogs or cats.
Adopting guinea pigs for your children is fine, but please be prepared to take over all of their care if your child won't or can't–including driving them to the veterinarian and paying for vet bills when needed!
10. They Can Live 8+ Years
Unlike other rodents commonly kept as pets, like hamsters and rats, guinea pigs have long lifespans. This is another reason not to buy them for children–they're a long-term commitment.
Guinea pigs live an average of 4-8 years, and some will live even longer. The oldest guinea pig in the world lived to be almost 15 years old!
It's important to think about how your life will change in a guinea pig's lifetime, and if you can keep them through it all. Many people end up rehoming animals when they go to college, get married, or have kids–and this isn't fair to the animals!
11. Guinea Pigs Need to Be Groomed Regularly
Guinea pigs don't need regular baths, but they do need to be groomed. This includes trimming their nails, brushing their fur (especially if they're long-haired!), and cutting the fur as needed.
You might also have to give partial or full baths if your guinea pig is dirty, though with a clean cage this should be a rare occurrence. Guinea pigs should not be bathed more than a few times a year as it can be stressful and dry out their skin.
12. They Also Need Regular At-Home Health Checks
Guinea pigs hide illness well, because in the wild a sick prey animal is more vulnerable to predators. Often, by the time a person realizes their guinea pig is sick, it's too late to save them.
This is why it's important to learn about guinea pig health and give them at-home health checks around once a month.
Health checks include:
Recording their weight
Checking their eyes, ears, and nose for discharge
Listening to their breathing for crackling sounds or quick, shallow breaths
Checking the fur for parasites, fungus, or hair loss
Checking female guinea pigs' nipples to ensure they aren't crusty, which can indicate ovarian cysts
Checking and cleaning male guinea pigs' genital sac to keep them clean and prevent build-up of debris
13. Guinea Pigs Can't Be Left Alone While You Travel
If you travel often, guinea pigs likely aren't the pet for you. They cannot be left alone for several days, even if you leave food and water in their cage.
They also shouldn't be brought with you unless necessary, as car rides and changes in environment can be stressful for them.
This means you'll need to find a pet sitter who is experienced in guinea pig care and can be trusted to come into your home, clean the cage, feed them, and refill their water.
14. They Shouldn't Interact With Other Species
I'm sure you've seen "cute" videos online of guinea pigs interacting with dogs, cats, or rabbits. Many people don't know how dangerous this is.
Guinea pigs are prey animals, and it can be very stressful for them to be around predator species. Even if your cat or dog is well-behaved, they shouldn't be allowed to interact with your guinea pigs, especially unsupervised.
If you have dogs or cats, you'll need a secure cage with a lid for your piggies. It's even safer to keep them in a room your other pets don't have access to.
Rabbits can also hurt guinea pigs as they interact much differently, and can kick quite hard when aggravated. Housing rabbits and guinea pigs together doesn't replace their need for a friend of their own species.
Lastly, even if your pets get along fine, dogs, cats, and rabbits can be carriers for an illness called Bordetella that is deadly to guinea pigs.
To keep your piggies safe, it's best to keep your pets' items separate (such as not sharing toys between your rabbits and piggies) and wash your hands after interacting with your other pets and before interacting with your guinea pigs.
15. Guinea Pigs Are Expensive Pets
The costs that go into keeping your guinea pigs happy add up quickly. They need constant access to fresh hay, a small amount of daily pellets, and a variety of vegetables (at least one cup total) every day.
If you use disposable bedding, you'll need to buy a lot of it to keep up with cage cleanings. Even reusable bedding like fleece or bath mats need to be washed, which means buying detergent and likely paying a bit more on your water and electricity bills.
The worst when it comes to guinea pig expenses are vet bills. Guinea pigs should see the vet once every six months to a year for a check-up, with additional appointments if they get sick.
Guinea pigs are considered exotic pets, so their vet bills often aren't cheap! An emergency visit could cost many hundreds or even thousands of dollars.
If you can't afford to pay thousands of dollars out of pocket for vet bills (most of us can't!), then I recommend buying pet insurance the same day you adopt your piggies. It's a relief to know they'll be cared for if the worst happens!
16. Their Illnesses Progress Very Quickly
When guinea pigs get sick, their illnesses can progress very quickly. Part of this is because they hide their illness until they can't anymore, so by the time we notice their symptoms they may have been sick for a while.
It's important that you have a relationship with a veterinarian who knows how important it is for sick guinea pigs to be seen right away. If you notice symptoms of illness, including weight loss, tiredness, or loss of appetite, you'll need to call your vet immediately and schedule an appointment.
Progression can vary depending on the illness, but URIs can progress very quickly. Guinea pigs can also go into GI Stasis, an emergent and deadly condition, if they don't eat for just 6-8 hours.
17. Not All Veterinarians Will See Guinea Pigs
Adding to the health care struggle, not all vets will see guinea pigs. This is because they're considered exotic pets, and veterinarians need extra schooling in order to treat them.
While almost all vets will see dogs or cats, this isn't true for guinea pigs. You might have to travel in order to see an experienced exotics veterinarian, and finding emergency clinics that treat piggies is even harder.
I suggest looking into the vets in your area before adopting guinea pigs. If no one near you treats them, and you aren't willing to travel, please adopt a different pet!
18. Their Death Will Break Your Heart
Lastly, the death of a guinea pig can be devastating. For many people, pet loss is just as hard (and sometimes harder!) than losing humans in our lives.
Only you can decide if the heartbreak is worth adopting guinea pigs anyways. For me? The answer will always be yes.
While I've sadly lost many pets in my lifetime, including four guinea pigs, I've never regretted adopting and caring for them. After all, we only grieve so hard because we love them so much!
We hope this list has helped you decide if guinea pigs are for you. Adopting a pet is often glorified, but it's important to keep both the positives and negatives in mind. After all, guinea pigs are living creatures and completely dependent on their humans!