Are My Rats Playing or Fighting? Understanding Rat Behavior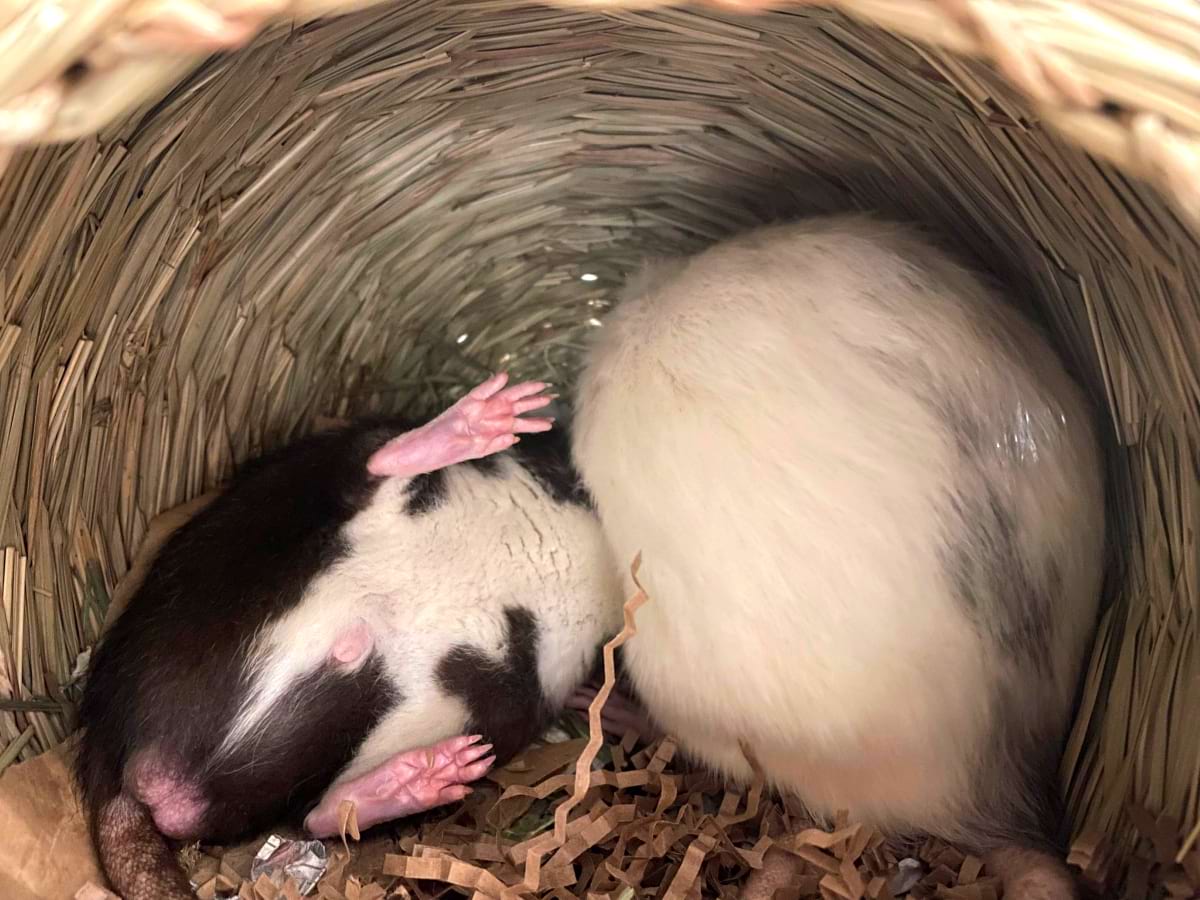 For the last few weeks, my life has been one long session of rat introductions. This year brought five new rescues into my home, all lone rats who need to make friends with the Horde.
Understanding rat behavior can be a bit tricky. Let's look at some of the behaviors that rats show when they meet, and how you can work out if they are playing or fighting and being aggressive.
Why Has My Rat Fluffed Up Their Fur?
If a rat is angry or is feeling defensive of its territory (a cage or play space), then they will often fluff up, with the guard hairs on their coat standing on end (the scientific word is piloerect, but I prefer floofed). This makes them look bigger to the other rat and is a sure sign that a rat is feeling aggressive. It's easy to spot as the rat literally looks like a toilet brush (the behavior is known as "bog-brushing" in the UK rat fancy) or a powder-puff.
Whether or not I intervene when a rat fluffs up depends on the other behaviors they are showing. I had one boy (Moose, or as he was known for several months, the floof-moose) who would bog-brush at the slightest thing, but not go anywhere with it. However, if a fluffed-up rat is actively facing down another, then I look at what else they are doing.
Pushing, Sidling, and Bum-barging
Rats don't want to fight and risk injury unless they have to, so they try to win arguments with dominance behaviors. One is to walk sideways into the other rat, bottom first. This is known as sidling or bum-barging.
Often the aggressive rat will crowd the other into a corner, or even try to push them off a shelf. The threatened rat may run away, freeze, or push back.
I watch these behaviors very carefully and break them up if the rats are becoming stressed, or a fight starts.
My Rats Are Boxing
Boxing is where two rats face-off by standing on their hind-legs, pushing at each other. It means that both rats are cross, and neither is willing to submit right now.
If this happens in a happy, established group, I don't worry – it's usually a brief argument about who is boss. On the other hand, if one rat is quite new to the group, or if one or both of the rats has fluffed up, it can be a sign that a fight is about to start, so I watch carefully, ready to intervene if needed.
And Now They Are Kick-boxing
Kick-boxing, where one rat hits the other with their back legs, is a way of exerting dominance. It usually comes after sidling or bum-barging. Again, in a new rat situation, it can be the first sign of a fight. It can also be used as a way for a dominant rat to exert authority over her group.
I had one tiny girl called Feegle, who was the boss of a group of neutered boys – even though she barely weighed 200g, and they were all half kilogram lumps. At regular intervals, she would go round the group, giving each boy a firm kick in the head. They immediately submitted as they had learned the hard way that the alternative was being beaten up by a tiny martial arts expert until they gave in.
My Rats Are Mounting Each Other! And They Are Both Boys!
In rats, as in many animals, dry mounting or humping has nothing to do with sex, and everything to do with dominance. Girls will do it to girls, boys will do it to boys. It means "I'm in charge", not "let's make babies" (unless you have unneutered boys and girls together, which is not a good idea).
Mounting is very common in play, especially in younger rats. It isn't something I worry about unless other signs of aggression are present.
Flipping, Pinning, and Grooming
This is a way to exert dominance, either over a new rat, or in an established group to remind everyone who is in charge.
The dominant rat (or the rat who wants to be dominant), approaches the other and pushes them over, then pins them down and grooms either their neck or belly. The submissive rat will lie down and freeze until it is over.
Most of the time, especially in established groups, this causes no problems at all – it is just a natural way for rats to show who is boss. However, if the two aren't agreed on who is dominant, it can turn into a fight.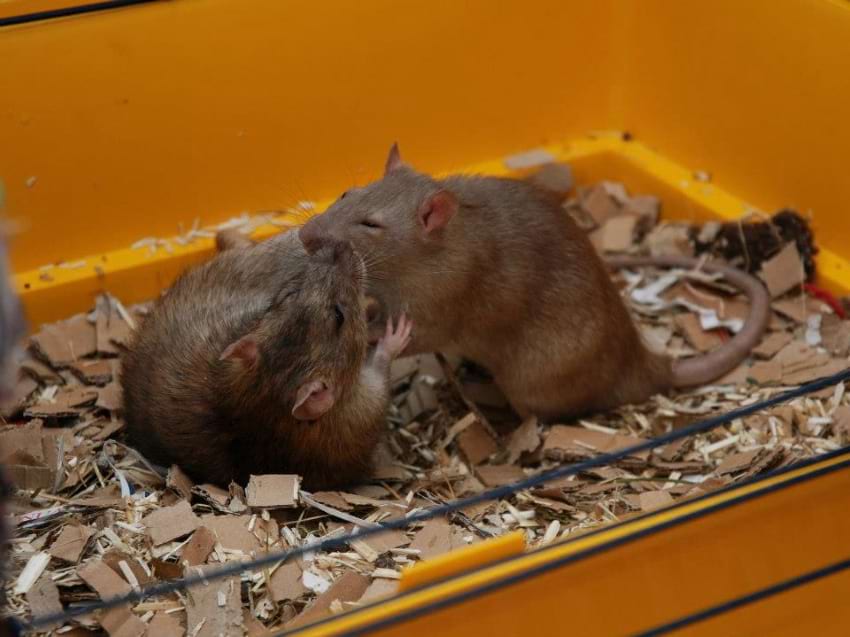 My Rats Are Chasing Each Other
Chasing is completely normal rat behavior, and often just a sign of play.
My rats often chase each other around their free-range area for fun. I only worry about it if the rat being chased is becoming very tense and stressed, or if the rat doing the chasing is showing other signs of aggression like fluffing up, trying to bum-barge etc.
Tail Holding or Tugging
Tail holding or tugging (or ear tugging, and shoulder tugging) is a fairly common way for a rat to say "come back" or "I'm annoyed you aren't doing what I want".
It's not something I worry about as long as the tail is not getting bitten, and the tail owner isn't squeaking in pain at it being pulled (rats get very vocal when something hurts them, or they feel a body part is trapped).
Should I Split Up a Rat Fight?
This is difficult to answer, as it depends entirely on context. On the one hand, no one wants their rats to get injured. On the other, rats live in groups with a hierarchy, and sometimes that hierarchy needs to be sorted out.
A lot of people use the "no blood, no foul" rule, which means they don't intervene unless one rat gets hurt. However, the problem is rat fights are big spinning balls of flying fur, and you really can't tell if someone has been hurt until afterwards.
I only ever get fights during introductions with new rats, and I do break them up. I watch for any of the aggressive behaviors discussed above and split the rats up if it turns into a fight, or if one rat is looking very stressed.
Never, ever, stick your bare hand in the middle of a rat fight! It can be tempting as you don't want your babies to be hurt, but if you just plunge your hand in the middle, the one getting hurt will be you.
If I am introducing new rats, or if two rats are showing behaviors that might lead to a fight, I get a piece of cardboard, a newspaper, or a thin book and have it ready. If a fight starts, I put the barrier into the middle, and gently push the two rats apart. Generally, once they can't see or interact with each other, they will calm down.
FAQs
Do rats play fight?
Yes, rats do play fight. Play fighting is a natural behavior seen in rats, especially among young ones. It is a way for them to practice their social and physical skills, establish dominance hierarchies, and release excess energy.

Play fighting usually involves chasing, pouncing, wrestling, and mounting. Play fighting is normal and healthy behavior as long as the rats involved are not showing signs of aggression or distress.
Why are my rats fighting?
Rats may start to fight for several different reasons. It could be due to territorial disputes, dominance struggles, hormonal changes, stress, fear, pain, or lack of space and resources.

Fighting happens in both male and female rats, and it is more common during introductions or when unfamiliar rats are housed together.

A small amount of fighting/dominance bullying that settles down is perfectly normal in rats sorting out their hierarchy, but if it is persistent or a rat is being injured or stressed, action must be taken. Gradual introductions, providing an enriched environment with plenty of hiding spots and resources, and considering neutering or hormonal treatments in certain cases may help resolve or manage aggressive fighting behavior.
How to tell if my rats are playing or fighting?
Differentiating between play fighting and actual fighting in rats can sometimes be challenging. However, there are some signs to look for that can help you distinguish between the two.

During play fighting, rats typically have a relaxed body posture, take turns being the aggressor and the recipient, and show no signs of distress, such as squeaking or biting with force. They may chase, wrestle, and playfully mock-bite each other.

On the other hand, actual fighting often involves intense aggression, fear, biting with force, puffing up of fur, and loud squeaking or screaming. If you're unsure, it's best to consult with an experienced veterinarian or a local rat group for guidance.
How to tell if rats are getting along?
Signs of rats getting along include grooming each other, cuddling or sleeping together, playing and chasing without aggression, sharing food or treats, and engaging in social behaviors like huddling or bruxing (grinding teeth).

Rats comfortable and content in each other's presence generally have relaxed body postures and display positive social interactions. However, occasional disagreements or squabbles may still happen, even in bonded groups.