500+ Cute Rabbit Names: by Color, Famous Bunny Characters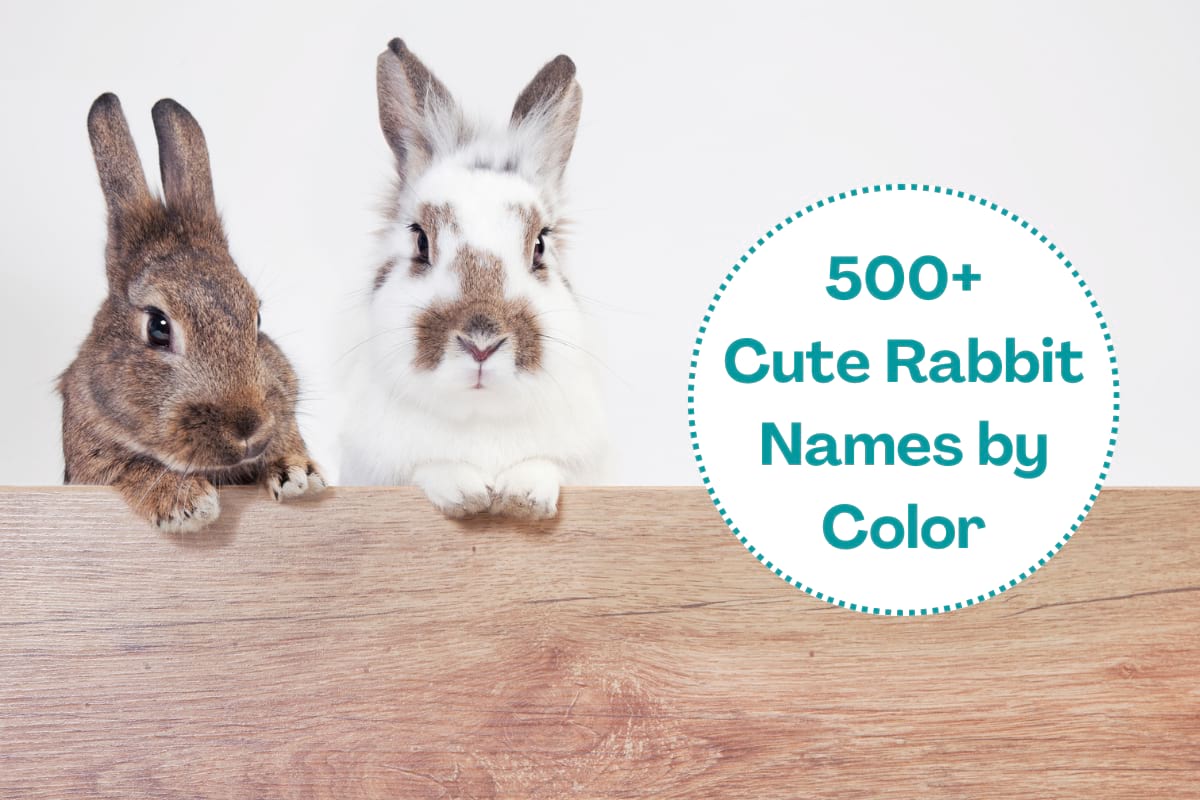 Step aside canines and felines, it's time to focus on our cottontail companions and find them the perfect pet names! When it comes to rabbits, there aren't many creatures out there that can compete with their sheer, unabashed adorableness. If it's not the floppy long ears, it's the sharp, keen sparkle in their eyes or even that unbelievably cute nose!
Luckily, your quest for the best moniker has officially come to an end, now that you've found our huge list of over 500 rabbit names.
Subdivided into male and female sections, as well as by color and famous character names, you're sure to find a lovely name for your sweet bunnies. So, whether your sassy short-haired diva needs a name to match her high-class attitude or your long-haired best friend needs a truly one-of-a-kind nickname to match his pelt, read on to get some twitchy-nose inspired ideas!
Now, let's pick some names!
Bunny Rabbit Name Ideas
Much like cats and dogs, your bouncing bunnies can learn and react to their own name – so make sure you pick some good ones! Here are over 500 name ideas for you to browse through to help narrow down names for your pets. With so many options, you're sure to find one that is perfect for your pet!
A
Male
Female
B
Male
Bandit
Bear
Blackjack
Blaze
Bentley
Brooks
Female
Bailey
Bella
Blossom
Beatrice
Bianca
C
Male
Caramel
Chester
Chip
Chomper
Captain
Charlie
Chase
Cricks
Female
Charm
Caramel
Candy
Cinder(ella)
Callie
Chanelle
Charlotte
D
Male
Dante
Domino
Draco
Dice
Drake
Dusty
Dash
Female
Daisy
Daphne
Diva
Darla
Dolly
Dora
Duchess
E
Male
Female
F
Male
Ferrari
Floppy
Forest
Franklin
Female
Farrah
Fergie
Fiona
Fifi
Flower
G
Male
Gadget
Galaxy
Gizmo
Goofy
General
Gideon
Guardian
Female
Gabby
Ginger
Gloria
Gust
Geisha
H
Male
Harold
Harry
Hopper
Hummer
Hunter
Female
Harley
Harmony
Hazel
Heart
Hope
Honey
I
Male
Female
J
Male
Jake
Jade
Jet
Jonah
Joubert
Julien
Female
Jackie
Jasmine
Jewel
Josephine
Jojo
K
Male
Keller
Kirby
Knight
Koby
King
Female
L
Male
Leo
Levi
Lincoln
Luke
Lucky
Female
M
Male
Marlow
Max(imilian)
Mickey
Miles
Female
Maribel
Marigold
Melody
Mercedes
Merida
Monalisa
Muffy
N
Male
Nacho
Nemo
Ninja
Niles
Niko
Female
O
Male
Female
P
Male
Pringles
Pickles
Philibert
Pierre
Female
Paprika
Peaches
Petunia
Pixie
Porsche
Porcelain
Princess
Q
Male
Female
R
Male
Rupert
Reuben
Rex
Roman
Ross
Female
S
Male
Female
Sapphire
Sassy
Savannah
Sweetie
T
Male
Female
Tallulah
Tiana
Tink
Tinkerbell
U
Male
Female
V
Male
Female
W
Male
Wesson
West
Whiskey
William
Female
X
Male
Female
Y
Male
Female
Z
Male
Zak
Zane (or Zany)
Zeus
Zoom
Female
Famous Bunny Names
Do your rabbits have star appeal and need a truly glamorous name? Why not give them some famous bunny names from the big screen!
Alec Azam – Presto (Pixar Short)
Babbitty Rabbitty – The Tales of Beedle the Bard
Babs Bunny – Tiny Toon Adventures
Benjamin Bunny – The Tale of Benjamin Bunny
Br'er Rabbit – Uncle Remus
Bigwig – Watership Down
Bugs Bunny – Looney Tunes
Buster Bunny – Tiny Toon Adventures
Buster Baxter – Arthur
Bucky O'Hare – Bucky O'Hare and the Toad Wars
Cecily Parsley – Beatrix Potter Stories
Clover – Sofia the First
Daffodil – Clifford's Puppy Days
E. Aster Bunnymund – Rise of the Guardians
E.B. – Hop
Frank – Donnie Darko
Fiver – Watership Down
Judy Hopps –Zootopia
Lola Bunny – Space Jam
March Hare – Alice in Wonderland
Miffy – Miffy
Oswald – Oswald the Lucky Rabbit
Pantoufle – Chocolat
Peter Rabbit – The Tale of Peter Rabbit
Pookie – Pookie
Quicky – The Nesquik Bunny
Rabbit – Winnie the Pooh
Roger Rabbit – Who Framed Roger Rabbit
Ricochet Rabbit – Ricochet Rabbit
Serena – The Little White Horse
Snowball – The Secret Life of Pets
The White Rabbit – Alice's Adventures in Wonderland
Thumper – Bambi
Totoro – Toy Story 3
Tricks – The Trix Rabbit
Tweak – The Octonauts
Velveteen Rabbit – The Velveteen Rabbit
Cute Bunny Names
Have you decided you want a name that's super sweet and dripping with honey? Then why not choose one of the following absolutely adorably cute names for your bunny pals!
Male
Boots
Big Foot
Bubbles
Carrots
Cheerios
Cottontail
Cuddles
Hopper
Hopscotch
Hopsalot
Little Foot
Oats
Peanuts
Pickles
Snuckermaboodle
Female
Buttons
Cookie
Crispy Cream
Cupcake
Dazzle
Doughnut
Flopsy
Fluffy
Frazzle
Frosting
Heaven
Honey Bunny
Kitten
Ladybug
Mittens
Muffin
Pistachio
Polka Dot
Pookie
Popsicle
Pumpkin
Sweet Cakes
Sunshine
Funny Bunny Names
Looking for a name that's got some pizzazz and a heavy dose of fun? Check out the following funny names for your fluffy friends!
Male
Big Foot
Buckteeth
Bunnyosaurus
Dust Bunny
Dude
Dwarf
Energizer
Frogger
Floppy Ears
Grasshopper
Groucho
Herbivore
Hercules
Jackelope
Mr. Fuzzyfeet
Mr. Fuzzypants
Nick Furry
Papa Paws
Pogo Stick
Sharkbait
Speedo
Top Hat
Female
Ballerina
Bouncer
Carrot Top
Chocolate Bunny
Hip-Hop
Hopps
Jumpstart
Kangaroo
Pop Tart
Skippy
Snickerdoodle
Springs
Summersault
Twitch
Black Bunny Names
Are you searching for the perfect moniker for your black rabbits? Don't worry, we have some great ideas right here!
Male
Black Bean
Black Eyed Pea
Blackbeard
Blackjack
Blacksmith
Carbon
Caviar
Coal
Coffee
Cosmo
Granite
Knight
Licorice
Ninja
Pepper
Shadow
Taz
Female
Black Beauty
Chia
Ebony
Eclipse
Inkwell
Lovebug
Magic
Midnight
Night
Noir
Olive
Onyx
Poppy
Raven
Velvet
Wednesday
White Bunny Names
Do you have a white rabbit or an albino bunny with red eyes? Want to choose names that go well with their color? Here are a few great suggestions for your perky pets!
Male
Artic
Blizzard
Buttercup
Cotton
Cool Whip
Cream Puff
Frosty
Marshmallow
Moonlight
Polar Bear
Popcorn
Powder
Q-tip
Snowball
Snowman
White Mocha
Female
Angel
Chantilly
Coconut
Diamond
Dove
Elsa
Icicle
Ivory
Lace (or Lacey)
Magnolia
Misty
Pearl
Peppermint
Porcelain
Snow White
Snowflake
Sparkle
Sugar Cookie
Tulip
Vanilla
White Chocolate
Winter
Black and White Bunny Names
Have some fluffy companions that are both black and white? We have the perfect suggestions for bunny names – check them out!
Male
Barcode
Comet
Dalmatian
Domino
Holstein
Penguin
Piano
Pirate
Puffin
Skunk
Tuxedo
Zebra
Female
Checkers
Chess
Dice
Orca
Oreo
Panda
Salt & Pepper
Spot
Ying Yang
Grey Bunny Names
No clue what to name your grey bunnies? Well look no further than our unique list!
Male
Charcoal
Earl Grey
Everest
Gandalf
Graphite
Marble
Mercury
Platinum
Rocky
Seal
Smokey
Steel
Sterling
Thunder
Female
Cashmere
Cloudy
Granny
Heather
Misty
Quartz
Silky
Silver
Stormy
Tinsel
Twister
Willow
Brown Bunny Names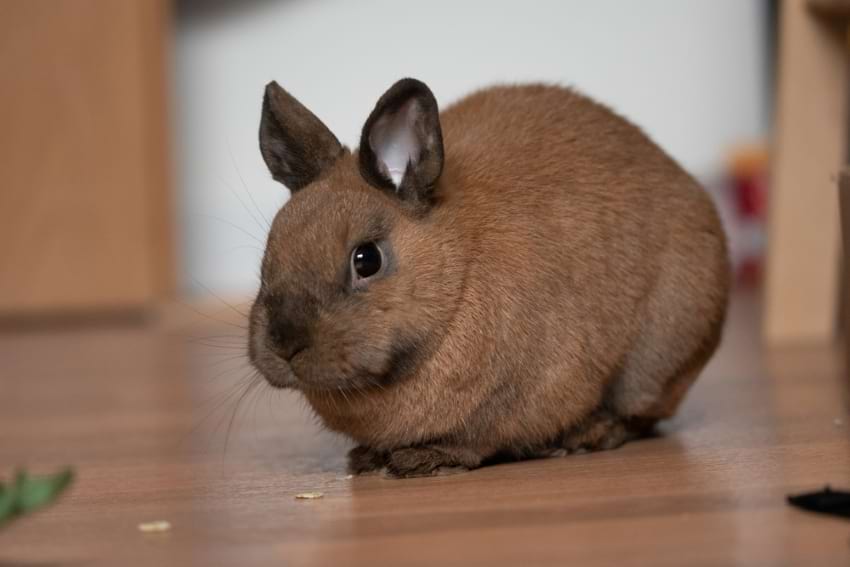 If your little balls of fluffy are chocolate brown, then we have some very interesting ideas on what you can call them!
Male
Bear
Charlie Brown
Coffee Bean
Copper
Grizzly
Guinness
Java
October
Pepsi
Pretzel
Rootbeer
Russet
Snickers
Suede
Teddy Bear
Toffee
Female
Acorn
Amaretto
Brownie
Butterscotch
Cappuccino
Cinnamon
Cocoa
Hazelnut
Maple
Molasses
Muffin
Pecan
Spice
Orange Bunny Names
The following list includes perfect names for rabbits with beautiful orange coats.
Male
Archie
Bacon
Bagel
Buttercup
Caesar
Caramel
Cashew
Cayenne
Chestnut
Creamsicle
Dorito
Dreamsicle
Dumpling
Fox
Garfield
Goldy
Mango
Pudding
Rusty
Simba
Sunny
Tigger
Toast
Female
Amber
Apricot
Autumn
Brandy
Butterscotch
Cappuccino
Caramel
Cinnamon
Doughnut
Ginger
Hazel
Honey
Mandarin
Marigold
Marmelade
Nectarine
Pancake
Paprika
Peaches
Pumpkin
Sahara
Summer
Tangerine
Toffee
Valencia
Waffle
Let us know if we helped you find a great name for your pets!
But, hold on! Are you new to the wonderful world of rabbit parenting? Well then, it's a good thing you've found our website, chalk full of helpful guidance, suggestions, tips, and information dedicated to bunnies. Start off on the right foot (or paws) and make sure your rabbits are happy, well-cared for, mentally and physically stimulated and have everything they need!
Do your rabbits have some cool names that aren't on our list? We want to know about them!